First of all, I'm a major fan of the UCLA Men's Basketball team. I've attended most of the games there the last few years while I've been a graduate student in the Computer Science Department. To see what it's like to attend a game, check out this page where I documented a game I went to in 1996.
NOTE: The rest of this page will gradually become more and more out of date, since I'll no longer be a student, and thus won't likely follow the team as closely. You can view this as sort of a chronicle of the 98-99 team, which was the last one for which I had season tickets.
Here's the scoop on some of the Bruins' leading players: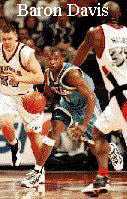 Baron Davis was one of the team leaders for the `97-`98 season, despite his occasional lapses of freshmanism. He plays a high-energy style both on offense and defense, and he makes the other players on the floor with him better with his passing and defensive help. On the other hand, his eagerness to get steals, blocks, and dunks caused him to foul out of several games, and be in foul trouble almost every game. With a little more maturity, which I think he'll gain next year and in the following years (if any) at UCLA, I think he could be the best point guard in the NCAA, and could take the Bruins back to the final four.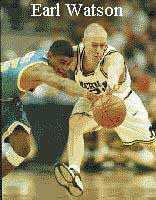 Earl Watson was the big surprise of the `97-`98 Bruin team. Most people expected him to be good, but not this good. :-) His defense is at the same intensity of Baron Davis, he's an excellent shot blocker, and a good passer. He has also shown an ability to score at times, but he seems reluctant to use it. Of course, on a team with as many offensive weapons as the Bruins had, it's understandable that a fresman might try to defer to the seniors. With the departure of Bibby and Simon to the NBA, Davis & Watson may be the best backcourt in the NCAA next year.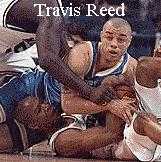 Travis Reed showed a lot of potential at the forward position in `97-`98. For most of the year, he didn't get much playing time, which I think was a mistake on the part of Coach Lavin, but I'm sure he'll be an integral part of the team the next 3 years. His post-up offense and rebounding, in particular, will be crucial to the Bruins success, as they will no longer have J.R. or Kris to fill those roles.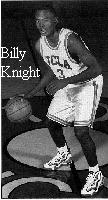 Throughout the year many people said Billy Knight was the best "pure shooter" on the team, me among them. I think with consistent playing time, he could be as good an outside threat as Tracy Murray was, and maybe better. He's another player I think Coach Lavin let languish a bit on the bench in `97-`98, but I'm sure that'll be rectified starting next year.






---
Last year's (97-98) leaders were three seniors: Toby Bailey, J.R. Henderson, and Kris Johnson, as well as the two freshmen Baron Davis and Earl Watson. They had a good year despite all the controversy, but you can't help but think what might have been.
First Schea Cotton, one of their top recruits, had his admission rejected by the NCAA. They claimed he used unfair advantage in taking his SAT's, so they said his score didn't qualify. Next Kris Johnson and Jelani McCoy were suspended before the start of the season for unspecified reasons. Both were eventually reinstated, first Kris in mid December then Jelani in Late December. Jelani later left the team in further controversy. Not only were these actions a distraction to the team, but they lost two of their best players for most of the season.
They made it to the Sweet 16 through sheer will of the 3 seniors and a lot of guts by all of the freshmen listed above, but Baron Davis injured his knee in the game against Michgan that took them to the Sweet 16. With him, they would have been outmanned by a deep Kentucky team. Without him, they went down in flames. Hopefully he'll stay at UCLA for more than 2 years and give us a chance at another championship in the near future.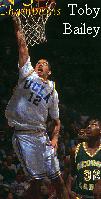 Toby Bailey is a slashing, 3-point shooting, get down on the floor for loose balls kind of player. From his freshman season on the championship team he made an impact. He played a full 40 minutes for most games during the last season, except for a couple of games when he fouled out. His offense was inconsistent this year, but there were some games when he carried the team. Much of his inconsistency with the Bruins could be attributed to the fact that he's rarely played his natural position (shooting guard) the last 3 years. First he was forced into playing the point much of the last two years due to injuries to Cameron Dollar, then in his senior year he played a lot of forward and even some center when both Kris and Jelani were out. This did pad his assist statistics, but didn't allow him to do what he does best, which is catch and shoot.

J.R. Henderson was one of the best post players in the NCAA for the `97-`98 season. Unfortunately, with Jelani McCoy out of the picture, he was often forced to guard much bigger players in the post which wore on him and sometimes got him in foul trouble.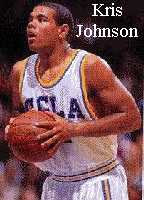 Kris Johnson played well when he was there, despite being harassed by the media. He's a scoring machine, and his defense is pretty good, though he's a bit short to be a forward in the NBA. If he'd have been there the whole season, the Bruins would have been more in sync from the start, and he may have ended out the season as one of the leading NBA prospects.






---
The Bruins won the NCAA Championship in 1995. Though J.R. and Toby contributed to that team, the leaders were the three seniors: Tyus Edney, Ed O'Bannon, and George Zidek. Another big contributor was Charles O'Bannon (Ed's brother).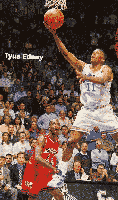 Tyus Edney was the heart of the team at point guard. He's a quick, slashing, hard-defending, slice and dish type of player. His full court dash and shoot against Missouri is one of the most exciting 3 1/2 seconds in the NCAA tournament history. When Tyus was on his game the Bruins were basically unstoppable, as he got so many dunks, layups, and open jumpers for the rest of the team. As of the `97-`98 season, Tyus was playing for the Boston Celtics, mostly in a backup role.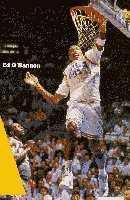 Ed O'Bannon Ed O'Bannon was the go-to guy on the Bruins, and eventually won the Wooden Award for best player in NCAA Basketball for the `94-`95 season. He could post up, he shot 46% on 3-pointers, he rebounds, he runs the floor, and he plays tough defense. There was a stretch of 3 games where Tyus Edney was injured and was only playing a few minutes per game. Ed stepped it up a notch and carried the Bruins through that spell. At the start of the `97-`98 season, Ed was released by the Miami Heat. I expect him to make a comeback, perhaps first through the CBA or abroad, and eventually in the NBA.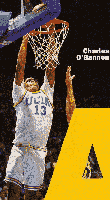 Ed's little brother Charles O'Bannon became the team's emotional leader (along with Cameron Dollar) in the `95-`96 season. He's a great rebounder and shot blocker and a solid defender. He played the `97-`98 year with the Detroit Pistons.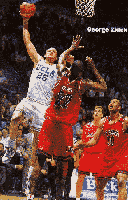 George Zidek was perhaps the first true center to play at UCLA since Bill Walton. He has a soft shooting touch and has a great hook shot. George's size proved to be critical in playing tough inside defense against some of the east coast teams in the `95 NCAA tournament. George was a first round draft choice by the Charlotte Hornets, and has since played for the Denver Nuggets and briefly this year for the Seattle Supersonics.




---
The four seasons from 1989-1992 were very productive for the Bruins. Though they didn't win any championships, they made the tournament each year, and they produced many current NBA players. Though Trevor Wilson, Ed O'Bannon, Shon Tarver, and Tyus Edney contributed a bit to those teams, the real backbone of the team was the four M's: guards Darrick Martin and Gerald Madkins, and forwards Don MacLean and Tracy Murray.
Don MacLean and Tracy Murray were both powerful offensive players, Don in the post and Tracy primarily behind the three point line. Don finished as the all-time scoring leader in UCLA history and Tracy has the Bruin record for most 3-point field goals scored (bear in mind, of course that in Kareem's days freshmen weren't allowed on the varsity team, so he only had 3 years to score his points). Both have had reasonably good NBA careers, though I feel neither has yet fully reached their peak there.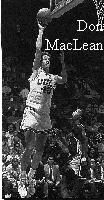 Don MacLean spent most of the `97-`98 season a member of the New Jersey Nets, on the injured list. He must have been waived or his contract expired, as he's currently listed as a free agent. He was voted most improved player in the NBA in 1994, so I'm sure we'll see him back in the thick of things once he's healthy again.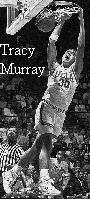 Tracy Murray had an excellent season with the Washington Wizards in `97-`98. He averaged 15.1 points, mostly coming off the bench. He had 50 points in a game against Golden State, and ended the season ranked 5th in the NBA in free-throw percentage and 3rd in 3-point field goals made. He was also invited to compete in the All-Star 3-point shooting competition.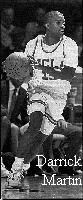 Darrick Martin was the Bruins starting point guard before Tyus Edney, and is the same style player as Tyus. I thought Jim Harrick made a mistake by taking Darrick out as the starting point guard at the end of the 1992 season and replacing him with Tyus. At that point in his college career, Tyus was very good, but not as experienced as Darrick. By replacing him, I feel Harrick hurt Darrick's confidence, and thus weakened the team. Darrick was the starting point guard for the Los Angeles Clippers for the `97-`97 season.




Mitchell Butler was perhaps the best all-around athlete on the team. His speed, agility and jumping ability made him a very good defender. He played in 130 games for the Bruins, the most ever for a player. His offense was good, but not on a par with Darrick, Don, and Tracy. Mitchell was very entertaining to watch. I distincly remember on two different occasions during games when he did 360 slam dunks. In both cases, the team was already ahead by 20 points or more, but in both cases Coach Harrick took him out for showboating. Kobe Bryant's the only other person I've ever seen do that during a game.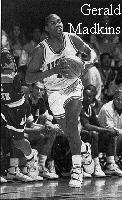 Gerald Madkins was not a big scorer, though he did shoot .399 on 3-pointers for his career at UCLA. He did everything else very well. He was a marvelous defender, he could rebound, and he finished in the top 10 all time in assists and steals. He's never really made an impact in the NBA, though he did play for Cleveland for 2 years and finished up the season with the Golden State Warriors in the `97-`98 season.





I also got to see Trevor Wilson play a few games in his senior season. He's been what ya might call a "journeyman" player in the NBA and Europe.
As an undergrad at UC Irvine, I was fortunate enough to see Scott Brooks play. He's been with several teams in the NBA, and currently plays for the Cleveland Cavaliers.
---
I'm also a big fan of the Lakers, and have been for many years. Will this be the year that Shaq leads the Lakers past Utah and then de-thrones Michael as the leading player in the league? We'll find out in a week or two.
---
And of course, I like to play basketball myself. Here's some shots of me making a slam dunk and a layup on my Nephew's hoop in his driveway.
(alright, so it's only 9 feet, but it's still a dunk :-)
---
[John's Fun Page]
[John's UCLA Basketball Game Page]