We woke up well rested & raring to go, & we'd need the energy today. We knew that we'd be gaining back most of the altitude that we lost the previous day, & hiking almost as far, so our work was cut out for us. Despite the fact that Dick & David had a fancy breakfast (eggs & hash browns), they were packed and on the trail a few minutes before me.
The first couple of miles of trail were gently rolling, rising up for the ridge, then dipping back down to meet the creek. In about half an hour, I had caught up with D&D & we were moving along at a brisk pace. In contrast to the previous day, when we saw no other hikers on the trail, we saw 3 or 4 hikers between our camp and the Roaring River Ranger Station.
We got to RRRS a little after 11, & talked to the ranger who told us that the trails in Deadman's Canyon were well marked and easy to follow, & told us about a couple of campsites that were "only" 7 miles up the canyon. We'd already hiked about 4 miles at this point, and the hike up the canyon was almost entirely uphill, so that sounded a bit far to us, but she said there were other campsites closer as well. We took off our packs to shoot a few snaps at the Ranger Station, then headed off up Deadman's Canyon.
We finished off the morning and the early part of the afternoon powering a mile and a half up the canyon, then stopped by the creek for lunch. Along the way we came across a couple of groups with pack animals (the Ranger had warned us about them). The grade up Deadman's Canyon is mostly gentle & there was shade in several stretches, so we made pretty good time up the canyon, despite the fact that it was mostly uphill.
One of the landmarks of Deadman's Canyon is a grave marker for someone named Alfred Maneros [sp?]. I was already a little behind David & Dick on the trail (I was even the last person to leave from water breaks :-), but I paused to get a shot of the marker.
As you climb Deadman's Canyon, it narrows a bit & becomes marked by the steep rocky canyon walls on both sides. This gives it a more threatening appearance or more protective appearance, depending on how you look at it.
Eventually, when it was getting time to start looking for a camp site, we came to Ranger Meadow, a large and beautiful alpine meadow. One of the best benefits of arriving at Ranger Meadow was that the ground basically leveled off. It was a bit over a mile of level hiking to the far end of the meadow, where we stopped (about 4:00) to set up camp next to the creek. We probably could have slogged on for another mile uphill to Upper Ranger Meadow, but then we would have gotten into camp as exhausted as the day before, & we didn't want that.
The campsite at Ranger Meadow was excellent. We were a bit beyond the view of the meadow proper, but we were up under ridges on all sides making for spectacular views on all sides. The ridges would later come in handy in keeping us out of direct sunlight for most of the next mornings hike, which would turn out to be a very good thing. We were a bit tired, but not nearly as tired as the day before, which was really good considering the previous day was a downhill day and this was an uphill day.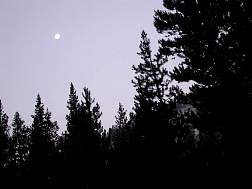 Food note: One of the dinner items we had was Lasagna with Meat Sauce (I think it was Mountain House, but I'm not sure), and it tasted exactly like Spaghetti-O's! If we had only had beer and women with us, we'd have had the three essential life-giving elements in the universe. :-)
wildlife: horses, squirrels, fish, bugs, birds
<--Back to Day 2's Hike]
[On to Day 4-->